FARE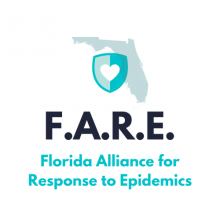 Florida Alliance for Response to Epidemics is a network of concerned young professionals who support Florida's public health and medical experts as they protect our fellow citizens against the unprecedented threat of COVID-19. We are political strategists, entrepreneurs, engineers, and technology analysts, who share one thing in common: keeping Floridians safe, mentally and physically, during the coronavirus pandemic.
As an active partner of the UF-VA UNESCO Bioethics Unit, we are working with professionals in the field to turn dense medical discussions into digestible, useful material for Floridians. Through this partnership, our aim is to combat the spread of misinformation and promote tangible data and evidence, especially for those populations most heavily impacted.
Our three main objectives include:
Develop communication materials for the public to encourage better health behaviors
Bringing together community organizations to respond to COVID-19 in helpful, coordinated ways
Build information tools that can get the public timely and accurate information
Find us on Facebook and Instagram.
To contact us with any questions or concerns, or if you would like to support our efforts, please reach out to Caroline Nickerson at cnickerson@ufl.edu.